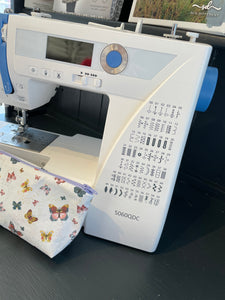 Children's after school and Saturday Classes - Click for more information - Upcoming classes ARE available
These classes are for children who have already completed our beginners course.
In these sessions our expert team will plan projects suitable for your child's age and ability.
The aim is to build on their basic skills gained on the beginners course enabling them to take on more advanced projects.
Examples of projects

* Child's tote bag
* Book Cushion with pocket
* Zipped lined pencil case
Building towards simple garment making.
Before booking, please read our booking terms and conditions, which can be found by clicking here.
We provide sewing machines and sewing essentials for the workshop. Sadly, we are unable to facilitate students bringing in their own machines, but you are more than welcome to bring your own sewing kit with you.
If you wish to purchase a sewing essentials kit, these are available in-store and online. Click the link below to see: 
Saturday 10am-12 (GCSE & A-level support)
Only 6 children per group.
Places subject to availability.
Please email us at carolynrose.schoolofsewing@yahoo.co.uk to enquire.