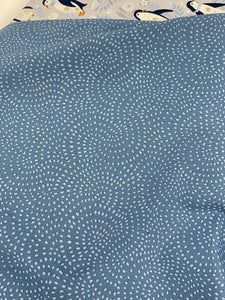 Cadet Blue Twist, Dashwood Studio - Cotton
Price per metre: £12.50
Approx Width: 112cm
Composition:  100% cotton
Designer: Dashwood studio
Description: A dusky, light, blue background, with a white dots forming a swirl pattern. This fabric is suitable for crafting, patchwork, quilting and dressmaking.
We sell our online fabrics in half metre increments, so if you would like a metre add 2 to your basket, if you'd like 1.5metres add 3 to your basket and so on. All orders will be cut as a continuous length.
We do our absolute best to show the most accurate images of our fabrics, but due to varying monitor screens and settings colours may differ slightly to the original fabric. If you are unsure or have any questions about the colour, weight or scale of the fabric please feel free to contact us.